NEW CLASS STARTING SOON!
(more info...)

"It was a transformational experience. It has sparked the fire in me
to remember my own voice and my story. Thank you, thank you, thank you!"
— Julie McDaniel at Mythic Journeys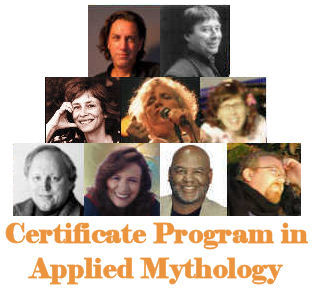 David Gonzalez, Michael Meade, Diana Wolkstein, Lisa Sokolov,
Honora Foah, David Spangler, Jean Houston, Fred Johnson, Ari Berk
The Certificate Program in Applied Mythology
is the next step in
the Mythic Imagination Mythic Journeys story.
"You are leading the way to the future we want to create.
I am so happy to be part of this and hope to contribute more."
— Louisa Calio
The Mythic Journeys experience created a hunger for more depth and a longer time to work with the Mythic Imagination 'art of myth' form. In response:
The Certificate Program in Applied Mythology
is an intimate one-year program with an extraordinary faculty.
The course unites the finest hearts and minds in the academic, social, and artistic arenas whose common thread is a deep understanding and every day application of mythic imagination. These teachers use myth and archetype in the realms of the highest levels of politics, inside prisons and with the homeless, with youth, in the university and as the foundation of art, from Broadway performance to the Kennedy Center. Authors of numerous books, plays, papers as well as operas and games, the Applied Mythology faculty conducts a remarkable series of master classes, coordinated by the Creative Director and Co-president of Mythic Imagination Institute.
Sacred and rowdy, passionate and intellectually rigorous, incisive and sexy — more than anything else Mythic Imagination is a return to the real. It is always about embodiment. Our 'applied mythology' form is where we stay close to the imaginal, mythic realm of wisdom, letting it penetrate our arts, our conversation and our work in social justice and environmental balance.
To apply mythology in this sense means to be aware of what nature and the gods are saying about their own natures. It is a way of allowing an independence of voice to the maple and the rose, to the bee and the roach, to the being of war and to the other human beings. It is a way to find your own voice through the encouragement and the exploration of the many voices that can speak through us.
"I loved every minute. The memory will live in my mind forever."
— Juanzetta, Princesa di Gozo
"Long life, honey in the heart, thirteen thank-yous!"
— Fonette Harris
"For me, it was a healing and life-cultivating event."—
— Kathy Stephowicz
"Truly, you created a wonderful atmosphere of humanity."
— Suzanne Degnats