---
Tapes, CDs, and DVDs!
Conference Recording Services preserved much of Mythic Journeys so that you can listen to the magic again and again (or for the first time if you missed the experience entirely.)
Mythic Journeys '06
Mythic Journeys '04
---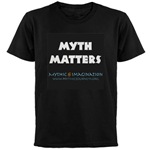 Express Yourself!

T-shirts, bumper stickers, coffee cups, calendars, tote bags and more! Let people know that Myth Matters!

Visit The Mythic Image
at Café Press
---
"Dreams are private myths, myths are public dreams"
Bumper Sticker



Dimensions:
11 1/2" x 3"
Materials:
Ink on high gloss paper
Price:
$3 plus shipping and handling

---
Start your mornings with a cup of "Joe" from your Mythic Imagination coffee mug!



Dimensions: 4 1/2" x 3 3/4"; 10 oz.
Materials: Glazed ceramic, pale blue with white flecks, brown rim
Price: $5 plus shipping and handling

---
Click here for more info.
---
Handmade Guatemalan Mythic Swirl Necklace



Dimensions: 1 1/4" x 1 1/2" oval
Materials: Stone; 18" leather thong; surgical steel clasp
Price: $20 plus shipping and handling
Very Limited Supply!
---
Handmade Guatemalan Mythic Journeys '06 Bracelet



Dimensions: 7" x 5/8"
Materials: Embossed leather; surgical steel riveted snap clasp
Price: $8 plus shipping and handling
---
Handmade Guatemalan Worry Dolls



Here are six tiny people for you to keep
So you can have a good night's sleep
Put under your pillow when day is through
And they'll do all the worrying for you

Dimensions: Case = 1 3/4" x 1 1/2" x 1";
People = 1 3/8"
Materials: Balsa wood, cotton thread, wire, cloth
Price: $3 plus shipping and handling
---
If you attended Mythic Journeys '06, you'll remember the stunning images that changed a sterile hotel setting into an art gallery. Now you can have a visual reminder of that beautiful space with one of the following limited editions:
Solstice Rock Wall Hanging by Stu Jenks


Dimensions: 53" x 53"
Materials: Photo printed on white cotton suspended from bamboo dowl
Price: $650 plus shipping and handling
(allow 2 weeks)
Click on thumbnail or visit Stu Jenk's website for a detailed view
Ghost Lion Tower Wall Hanging by Stu Jenks


Dimensions: 53" x 53"
Materials: Photo printed on white cotton suspended from bamboo dowl
Price: $575 plus shipping and handling
(allow 2 weeks)
Click on thumbnail or visit Stu Jenk's website for a detailed view
Resurrection Falls and the Three Surrender Trees Diptych Wall Hanging by Stu Jenks


Dimensions: 53" x 92"
Materials: Photo printed on white cotton suspended from bamboo dowl
Price: $725 plus shipping and handling
(allow 2 weeks)
Click on thumbnail or visit Stu Jenk's website for a detailed view
Secret Place Wall Hanging by Stu Jenks


Dimensions: 53" x 53"
Materials: Photo printed on white cotton suspended from bamboo dowl
Price: $575 plus shipping and handling
(allow 2 weeks)
Click on thumbnail or visit Stu Jenk's website for a detailed view
---
Ancient Spirit, Modern Voice Exhibition Catalog


Have you admired the images that you see at the top of our website? Ever wished you could see more? Then purchase a copy of the art catalog from the first Mythic Journeys art exhibit, Ancient Spirit, Modern Voice. The catalog is hardcover, full color, 48 pages, with over 100 illustrations and text by scholar and Mythic Journeys guest Ari Berk, $19.95 plus $5.00 shipping and handling (Total Cost: $24.95).

Read a review of the book by respected sf and fantasy author Charles de Lint
---
We thank all of the artists and partners whose work made our Mythic Market so wonderful. We appreciate the time and effort they put into being a part of our event and wish to acknowledge them for it.

Please keep checking this page if you are interested in finding out about opportunities to be a part of the 2008 event or send an e-mail to marketplace@mythicjourneys.org and request that you be notified when the artist/vendor application is available