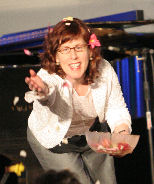 Catching Up
by Honora Foah
Co-president & Creative Director
Mythic Imagination Institute


Dear Friends,

When so much of life seems to be about descent, who ya gonna call?
Myth Trusters! If we can't talk about the abyss, who can?
Seriously, Mythic Imagination is struggling along with everybody else, but part of our job description has to do with solace and structure and meaning and survival in difficult times, so our struggle is to survive in order to be of use in difficult times and places.
It's time to catch up, report on Mythic Imagination Institute and try to find our way home.
We've just finished the yearlong Applied Mythology Certificate Program, held in conjunction with The New York Open Center, and what a powerful and transformative year it has been. The teachers, Michael Meade, Diane Wolkstein, David Gonzales, Ari Berk, Lisa Sokolow, Janet Pietilato, David and Julie Spangler and myself, along with the participants, have brought something strong into the world that can be a template for a training that can prepare us for the challenges in our own lives, but also for participating in the new forms of work that are needed now.
We see over and over in the news that our difficulties are rooted in the disintegration of cultures, whether wealthy or poor. The social forms that have held violence, intelligible lines of responsibility, sex, the rearing of children, etc in a cohesive way, have broken. Whether being desperately reconstructed out of rubble and crazy glue, as the frightened fundamentalists scramble for, or being drunkenly abandoned as many liberal societies are now discovering as a catastrophic mistake, the carefully rendered wisdom of myth sits at the center of what is broken, missing, and corrupted. Without this element of human nature, without the functions of myth, there will never be a healing. How can we help? This is the question we are grappling with.
---
There must be people who remember World War II and the Holocaust
who can help us get out of this rut.
Martin Scorsese
Flights from Captivity
In April at Atlanta's Rialto Theatre, MII will produce a concert and Big Conversation that will be the first event of our new project, Flights from Captivity, Music from the Prisons and Concentration Camps of World War II.
This is an astonishing project that came to us through Dahlan Foah. Dahlan had read an article about Francesco Lotoro, a concert pianist in Rome, who has devoted the last 17 years to researching, locating, authenticating and recording music that was written in the concentration camps. We're talking here about thousands of pieces of music. Just that fact challenges our ideas about the people of the holocaust. It is a picture of creativity resisting the dehumanization and the destruction of the soul.
The unutterable violence of the Holocaust shook our confidence in the possibility of telling any story of faith at all.
Timothy Radcliffe
In Italy last year, Dahlan and I met with Dr. Lotoro and then hosted him here in Atlanta this past August, to inaugurate our collaboration. There are many sides to this project, but one thing is clear. Within the context of these events, the idea that every life is a story, and a story can change the world, breaks open. Each piece of music is a story that defines a life and a determination to be alive. Each is an act of creativity and a defiance of evil.
In our time, when so many are in captivity, physical, material, spiritual, the songs and stories of those who fought for their humanity are teachers that we require. In joining forces with Dr Lotoro, we hope to make those teachers visible.
While this first event is in Atlanta, the project is international in scope with concerts being planned in many different cities. If you would like to talk about Flights from Captivity coming to your town, please let us know. We need more local partners.
---
The Documentary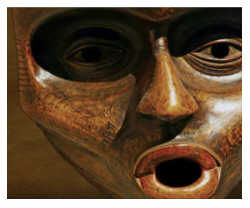 On December 6th, the Mythic Journeys documentary that has been a two-year labor of love by Steve and Whitney Boe was screened for the Mythic Imagination leadership. We hosted the Boes, who came home to us here in Atlanta, from whence their mythic journey took off at the 2006 conference. We are planning the public premiere of the film for early next spring. That is going to be quite an event, so y'all come. It will be a homecoming, a time to gather and reconnect.
---
Mythic Journeys
Y'all. I guess it is obvious how incredibly expensive it is to put on Mythic Journeys, in time, in energy, in money. I imagine that you have seen what a labor of love it is, the work of hundreds of people. And we have gotten your lovely letters telling us how much it meant to you and when when is the next one. The thing is that, despite almost everything being done by volunteers, the conferences did not pay for themselves by hundreds of thousands of dollars. They were underwritten so that we came out even, but in these times, we don't have an underwriter.
We are keeping it in our hearts to recreate this gathering. We are working to re-imagine it in a sustainable way. We invite your input. So no MJ in 2009. Many many things are changing with the economic meltdown, with the election, with sobriety. There is so much that those of us who work with myth, with an anthropological view, with the wisdoms of depth psychology, with the awareness of the realm of creativity, have to offer just now. To find the best forms to do that is a challenge and an astonishing opportunity. Please keep in touch.
Myth Taken,
Honora
Return to Mythic Passages Menu