Seven Poems of Loss & Return
by Marly Youmans
Image: Winter Crane by Hokosai
---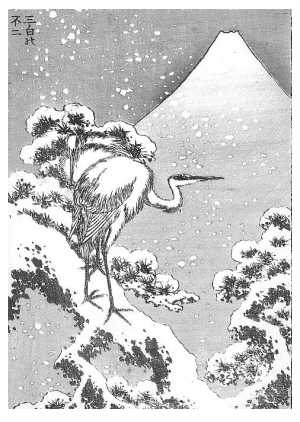 GODSPELL, OR
DECEMBER TRIPTYCH
1. The first: Fujimura's December Hours
This golden screen is bursting with small suns.
Resplendent and severe, it bars the eyes
From mysteries of the beyond: what is
Utterly past the squares of pounded gold
That float on gravity as if by a spell —
The gleaming curtain trembles on the air.
2. The second: monastery ikonstasis
The beams of spiky halos burr the air
At Jordanville — a second screen of suns
Obscures an altar where the muttered spell
Of God is brightening the icons' eyes
That stare past death from opulence of gold.
Their gazes see what was, shall be, and is.
3. A third screen
Far off, a gilded Japanese screen is
A horizontal plane twixt death and air.
A dying man looks up at streams of gold
That jet from sparkling hearts of tiny suns
Until he's wholly gold — even the eyes
With irides like sun are gripped by spell.
4. Ikonstasis, Jordanville
A monastery priest is chanting Godspell;
Long-tortured, his Russian brother is
Fresh in a modest grave, his grayling's eyes

Staring past the leaded coffin to air
That's constellate with infinite small suns
Burning and melting in the streams of gold.
5. A triptych of December hours
Now Fujimura fans his book of gold,
Removes a square, but cannot speak or spell
What's in his heart while fastening these suns
Onto the picture, while his far friend is
Panting for breath at scorching, starry air,
And icons see through death with gold-flecked eyes.
6. The hour of death
In realms right-angled from our world, the eyes
Of saints are watching someone turn to gold.
His darling's face against his face is air.
He wants to say, at last he grasps the spell,
Sees wands — of trees — jolt of blue — what is
Smoldering behind a dragon-gate of suns.
7. Tornata
Before our eyes saw light, there reigned a spell
Of making pure as gold: because it is,
All is — the earth, air, sea, ten thousand suns.
---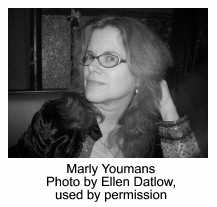 Marly Youmans is the author of seven books: Valorson, a limited edition novella forthcoming in 2008; three novels, her most recent work The Wolf Pit,
along with Catherwood
, and Little Jordan: A Novel;
a collection of poetry, Claire
; and two very Southern fantasies, Ingledove
set in the Blue Ridge Mountains, and The Curse of the Raven Mocker
. She has won The Michael Shaara Award for The Wolf Pit
, and two Hoepfner awards for short fiction. A native of the Carolinas, she lives in Cooperstown, New York. For more about her work, please visit her website and blog.
---