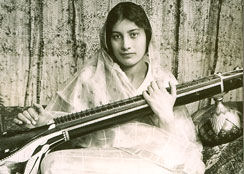 Noor Inayat Khan:
A Light in the Darkness
Song cycle composed and performed by
Geoffrey Armes
By Brenda Sutton
Sufi Princess, children's book author, musician, Allied radio operator and spy. She was born in Moscow January 1, 1914 to Indian musician Hazrat Inayat Khan and American Amina Begum. Her parents named her Noor. Light.
She spent most of her youth in Paris. Then, subsequent to her father's death in 1927, the outbreak of WWII and the invasion of France, she moved to London in 1940. Noor returned to Paris in June 1943 as an Allied spy radio operator, only to be captured by the Gestapo in October. She was held in solitary confinement at Pforzheim.

At the age of 29, and after experiencing great illness and suffering, Noor was executed at Dachau on September 13, 1944. Despite grueling interrogation, her captors never learned so much as her name. England and France posthumously awarded her both the George Cross and the Croix de Guerre.
British composer and performer Geoffrey Armes, whose music is heard at the introduction of the Mythic Imagination podcasts, stumbled upon this creative and courageous young woman's history in an English newspaper. He was familiar with the philosophy of Hazrat Inyat Khan, who wrote specifically about music as a medium for spiritual work. Armes studied the daughter's biography. He found himself captured by the idea that anyone connected to Sufism would participate in WWII, let alone to the level of Noor's involvement.
"These were dark times," says Armes, "and I think that she felt that it wasn't enough to sit around — she needed to do something to take part in the struggle... (We) still live in dark times with the potential of overwhelming evil in the world. Noor's story could easily be one that has to be lived again, and that's rather frightening."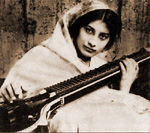 Noor's life and death continued to weigh heavily on Armes' mind. She started showing up in his music and lyrics, and her story eventually became an entire song cycle, a suite of her life and death. "I felt very close to her...quite empathic with her suffering. I admired the things that she had done, and questioned if I would have the strength to do (something similar) if I was called upon in that kind of situation."
Noor

"Child you play music
Young girl you play
Moscow, Paris, London,
You thought
"I can give"

A father's love is blind
Did you hear his words every day?
How a voice resonates forever
How God is beautiful
How God loves beauty
You are the instrument that is played
All is vibration, coarse to fine

So you found yourself in that hole
With the universe inside you
Outside and within
They can only look in
Why was it you were asked to do this?
What did you give it to?
"The light..."
---
To read more of Noor Inayat Khan,
and listen to some of the song cycle,
please visit Geoffrey Armes' website at
geoffreyarmes.com
---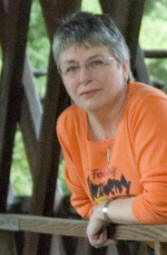 Brenda Sutton is the publisher of Mythic Passages, Operations Director, Corporate Secretary, and Office Administrator for Mythic Imagination Institute. She is an award-winning singer/songwriter with the internationally reknown band Three Weird Sisters. She works in a support and consultant capacity for the non-profit music organization Interfilk, and maintains their website. She is freelance writer whose work has appeared in newspapers and magazines. She is also the mother of five, grandmother of two.
---
More on "Courage":
---
Return to Mythic Passages Menu
Subscribe to the Mythic Passages e-magazine