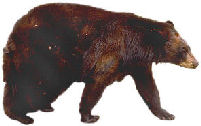 Bear's Brown Study
(For James Hillman)
by Dennis Patrick Slattery
Full of the weight of its own gluttony
a brown bear stoops sluggish in sleep,
a cave mouth open to spring's rhythmic song.
He stirs in loose skin, feeling the fine form of a man
slip through his brown ruggy dream
to begin a slow tap dance
on the lip of the brown breathing bear's
barely heaving body.

Slow at first then picking up the tempo
with a gusty tap from right to left, towards the
dawn of sleep; his joyous legs
resound in the cave of dream.
Staccato beats of an aged terza rima
stirs the ears to scan the cave walls, smelling
the motion of sound.

Eyelids of the bear burrowed deep in
the mantle of a familiar forest
flutter in frenzy to match the tapping
rhythm of resounding rhymes
forward and back, side to side,
tattooing an old rhythm of seasons:

A B A
B C B

through centuries of slumber.

Will the bear gather the courage in coming days
of foraging to tell
his animal friends in the warm spring sun
about yellow flowers and new rivers of melting snow,
of a strange mortal form
clicking through conscious play around
the aging animal delighted by new scents
wrapped in sharp sounds of waking sleep?

Beating a rhyme off the hard cave floor
deep into cave time — tapping through
a dream not of his making — a guest not unwelcome
always surprised, delighted by honey
smooth clicks.

A bear now with poetic paws of strange rhythms
hanging limp, limpid in a shaft of rhyme
ending with a change of beat
a heroic couplet clarion click to
welcome spring's sprung rhythm.
---
Dennis Patrick Slattery, Ph. D. is a member of the Core Faculty in Mythological Studies, Pacifica Graduate Institute, the author of 6 books, as well as more than 200 articles and reviews that focus on the confluence of culture, spirit, soul, myth and poetics. Dr. Slattery's work includes The Idiot: Dostoevsky's Fantastic Prince
and The Wounded Body: Remembering the Markings of Flesh (Suny Series in Psychoanalysis and Culture)
, and Station-To-Station: A Monastic Memoir. He is co-editor with Lionel Corbett of Depth Psychology: Meditations in the Field as well as Psychology at the Threshold, and a volume of poetry, Casting the Shadows: Selected Poems
. His most recent work is a collection of poetry, A Limbo of Shards: Essays on Memory Myth and Metaphor
. He is a Fellow of The Dallas Institute of Humanities and Culture where he teaches the classics each summer to high school teachers in a Summer Institute for Teachers. He lectures and offers workshops to a variety of Jungian groups in the United States and Canada.